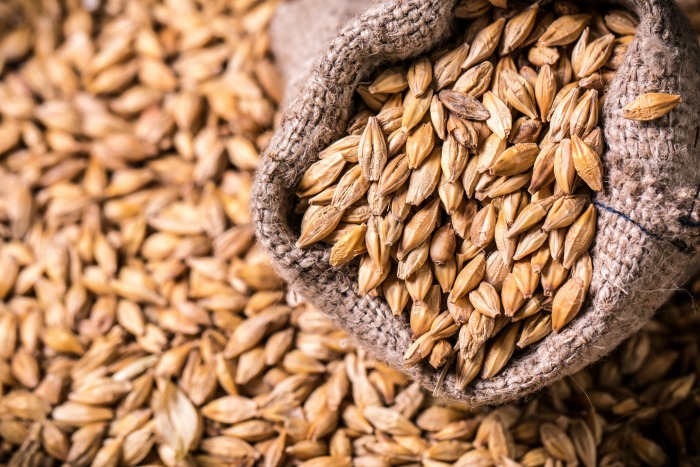 Barley is a high-yielding cereal grain that can be adapted to many parts of the homestead. It can be used as a tasty cereal, ground into flour, sprouted for super food, grown as fodder for livestock (which can save you lots of money when using homemade fodder in winter time), and last, but not least, grown for beer and different types of alcohol. One aspect of growing your own barley is that it doesn't require a lot of water to grow and can be planted as a green manure to revitalize any overused soil.
The barley sold at Ready Gardens is an organic variety adapted for pearling, malting, and feed grade. It has been grown without synthetic fertilizers or pesticides, strictly adhering to the USDA's National Organic Standards Board (NOSB) organic gardening practices.
Barley is rich in dietary fiber, niacin (Vitamin B3), thiamine (Vitamin B1), selenium, iron, magnesium, zinc, phosphorus, and copper. And it has all the nutritional value of wheatgrass. So it's a healthy alternative and is easy to grow. As well, the high fiber content present in barley makes it a great digestive aid.
How to Grow Barley from Start to Finish
Barley prefers cool, dry growing areas and could easily be considered a cool season crop because it flourishes more in the Fall or Spring. It prefers growing in temperatures no higher than 55 degrees F. In fact, many prefer growing barley is the Fall because they see a higher production rate. This cereal crop is very adaptive in terms of where it is grown and can be sown in a container or in the ground.
One of the reasons people don't grow barley is because they don't know how much barley they need. To put it into perspective – 200 square feet of barley can get you 40 pounds at harvest time. That's a lot of barley!
Growing 
(40-50 days to ripen for harvest)
Prepare garden beds with a rake to create small furrows or prepare garden containers.
Scatter seeds on the ground or in a container. Aim for about one or two kernels per inch. Another way is to use a broadcast seeder, which has a hand crank and throws the seed in a twenty-foot cloud.
After seeding, use a rake to rake in the grain, to get better soil contact and cover at least some of the seed. If you are using a container, use a hand leaf rake to get grain seed into the soil. The ideal depth for planting barley is 50-75 mm. Germination takes 3 days.
Moisten the growing area until sprouts occur.
Water as needed. Barley is fairly drought-resistant, so you don't usually need to worry much about watering it if you are getting a reasonable amount of rain. If you experience an extended period without rain, water as needed.
Harvesting
There are three stages to look for when growing of barley:
Milky: press on a grain and see milky liquid ooze out.
Dough: liquid hardens inside the grain and the grain will show a dent when pinched.
Mature: grain is hard and the heavy heads often bend forward.
When the barley grains begin to mature, it turns from green to a golden brown and is ready to harvest with milky liquid is not released. Cut the grains with pruning shears or a scythe near the base when most of the green color has turned brown and the seeds are hardening (no longer milky). As you cut the grain, lay it in bundles all going the same way, and then tie these into sheaths. When you have about eight or ten of these, stand them up into small piles with most standing up and a couple laid across the top. Leave these out in the sun and wind for one or two weeks to thoroughly ripen and dry. This reduces the chances of the barley molding in storage.
Threshing
Threshing the grains refers to separating the heads of the stalks from the stalk. This can be done three ways: rubbing with your hands, hitting the stalks with a wooden stick, or banging seed heads inside a clean metal trash can. We typically use the latter and bang the seed heads in a trash can.
Winnowing
The last step of harvesting barley is the winnowing process. Winnowing helps to blow away any impurities of the barley. The easiest way to winnow your harvested barley is by throwing it into the air and allowing the wind or a fan to blow away small particles.
Storing
Now that you have successfully harvested your barley, you want to ensure proper storage so it stays fresh. Keep your grain fresh when you store it below 60F, free from oxygen, moisture, and pests. You can do this by bagging and freezing it, or placing it in food-safe, airtight buckets along with oxygen-absorber packets.
Growing barley will be an easy addition to the garden and provide you many homestead uses. Make sure you gather seeds from your barley crop to use for the next growing season!