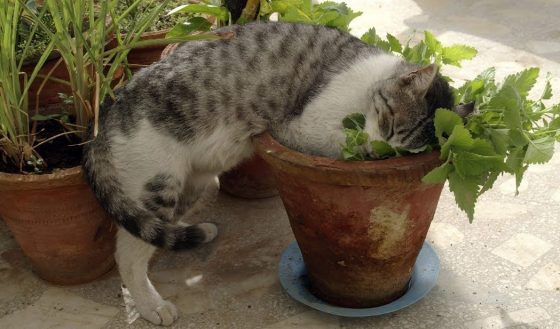 Anyone who has a furry friend they love understands how much companionship a cat can provide.  So why not consider making an indoor garden for your friend to enjoy while boosting your gardening skills at the same time?
The cooler winter months are a perfect time to start a pet garden. Since its cold and snowy outside, your outdoor time will be limited, but you can grow plants indoors too. The first step to creating an indoor oasis for your cat is to obviously avoid any plants that are toxic to kitties. Spend some time researching the plants you'd like to grow, or start by eliminating those plants known to be toxic to cats, such as the flame lily, tiger lily, azalea, sago palm, oleander, cyclamen, and daffodils. Cats love to play with plants and they often bite them; but if you have one of these fur balls, you already know that! Therefore, it is a good idea to grow plants that your cat will love to chew on.
Consider putting an indoor garden for your cat near a window that receives some sun, you can create a windowsill garden for your feline friend.  Cats love the sun and you will often see them lounging in a sun streak in your house.  They'll have a garden to play with and some sun to relax in while doing so!
Once you've chosen the perfect spot, it is pretty easy to just start with the obvious plant: catnip. The catnip plant itself is closely related to spearmint and oregano and is also sometimes known as catmint. Catnip triggers a powerful pleasurable response in cats which is almost instantly recognizable. This edible herb contains an active ingredient called Nepetalactone. This particular compound acts like a cat attractant and your kitty will respond to it by sniffing, licking, and chewing the plant. Nepetalactone evaporates quickly into the air, especially when the leaves and stems of the plant are broken or bruised. When nepetalactone is released into the air, the cat will react to its smell.
To grow catnip, make sure you don't have other plants you care about near it.  Because your cat will be rubbing in the catnip and chewing it, you don't want to risk damage to other nearby plants that aren't specifically for cats. You could also put cat grass near your catnip. Cat grass is nothing but a mix of grasses– oat grass, wheat grass, rye grass, barley grass, orchard grass that cats love to gnaw on. You can grow them together in a wide container or window boxes.
Next, choose a window that has a lot of light. When growing catnip indoors try to give it as much direct light as possible, even up to 5 hours a day of strong sunlight on a bright windowsill. Too little light will cause leggy growth. Fast draining potting soil will work just fine for your little cat garden.  Even though catnip likes a steady supply of water, good drainage is still a must. The plant recovers quickly from a wilt, so it's best to err on the side of dry rather than too wet, which will encourage root rot.
If your catnip plant goes into flower, snip off the flower buds to encourage stronger and better leaf growth. Indoor catnip will not have the same potency as outdoor catnip, but your cats will definitely still like it! If you'd like to add some cat grass to your windowsill garden, you can do that too! It grows well indoors and will make a healthy and safe play area for your feline! This is a great cat grass kit that you can get right off Amazon to make things incredibly easy, but still get your gardening fix for the winter.
If you are craving a fun winter gardening project, why not start by merging your love for gardening with your love for your cat? Like gardening, pets enrich our lives in ways we are often unaware of until we actually have one of our own.