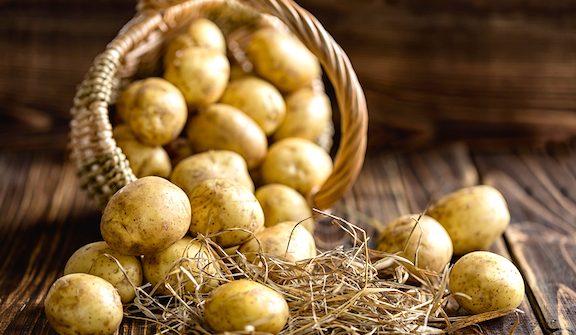 Potatoes are not only a hearty winter staple, but they are fairly easy to grow and will last all winter if stored properly. Because of their usefulness, we've put together a few tips and tricks that will help you store your potatoes all winter for the best soups, casseroles, and holiday mashed potatoes.
The first helpful tip we have to consider how long you may want to store your harvested potatoes. Red potatoes have a much shorter shelf life than the thicker skinned russets. If you choose to grow a variety of different types of potatoes, start by using those in your possession with the thinnest skins first since they will not keep as long.
Because potatoes can be harvested as you need them, they are a great option for beginning gardeners.  However, you will want to harvest your potatoes before the first freeze or risk losing them. But the good news is that potatoes keep for a while if stored properly and taken care of after harvest.
Proper potato storage actually begins at the time you decide to cultivate. Before harvesting, you'll want to severely reduce the water you had given to the plants for about two weeks before you wish to harvest. This will help toughen up the skins on the potatoes making them store better over winter. Make sure you let the vines die all the way back before you start digging up the crop. The vines will turn yellow and speckled before they are completely dead, and then they dry up and turn brown. Waiting until the plant is dead ensures that the potatoes have reached their maturity. These pre-harvest treatments are crucial steps for storing the potatoes you've harvested from your garden and will increase the number of spuds you'll be able to use.
The next step is curing your potatoes.  This is done to further toughen up the skins to help ensure you get the longest storage possible out of your potatoes. To cure the potatoes, you'll want to place them in a spot where there are moderate temperatures but a high humidity for ten days. Clean the dirt off the potatoes after you dig them up and place them in a cardboard box or open paper bags in a room that is 65 F. (18 C.) and humidity up to 95 percent. Once they have cured, you should check all of the potatoes for any damage. Before storing, you will want to remove the potatoes with green ends, soft spots, or open cuts in the skin.  These won't store well and it is often said that just one rotten potato could ruin the whole bunch as well.
Helpful Tip: If there are a few potatoes that are bad, and the spots are small, put them aside to use for dinner that night.  Cut off the green ends or cut out the bad spots and eat the good part of the potato immediately, salvaging even more of your harvest.
Once your potatoes have cured and you've set aside any that may have a bad spot, you will need to choose a more permanent location to store them. A dry room with a temperature of 35 to 40 F. (2-4 C) is ideal. An unheated garage or basement or crawl space could all be viable options.  Try not put them in any place that has the potential to freeze, however.  Freezing will cause the potatoes to split and go bad quicker.
Potatoes can potentially last for six to eight months when stored in cool temperatures. When storing garden potatoes in temperatures above 40 F. (4 C.), they will only last three or four months, but that's still a decent amount of time to give you to use up your harvest. But the last piece of advice is please do not store potatoes with apples or other fruit which give off gases that may cause them to sprout.  It will decrease the life of the potatoes.
Storing potatoes over winter is a great way to keep a hearty food on hand during those freezing cold months.  You are now ready for the best-mashed potatoes and hearty soups and stews that are so often enjoyed when the weather cools off!