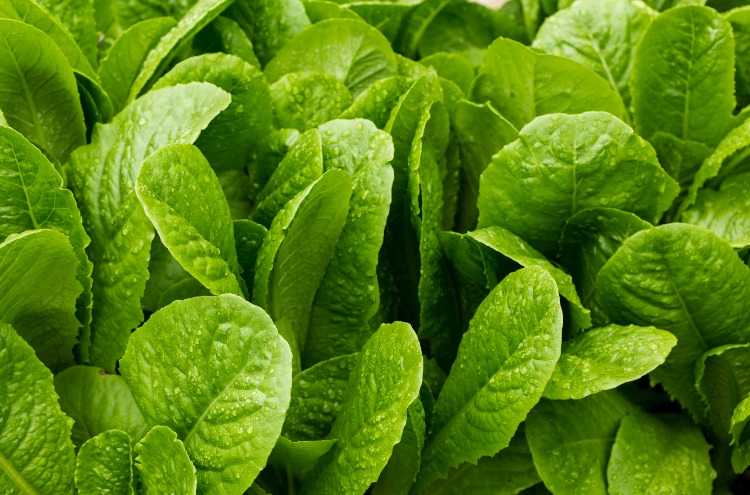 Nothing beats a crisp fresh green salad.  Not only is it a mood booster during those "cabin fever" days, but it is a reminder of the beauty of summer during the cold winter months.  If you love fresh homegrown lettuce even when it's cold outside, this guide is for you.
Salad lovers like us can actually grow lettuce indoors, all winter long! Depending on available sunlight, even urban gardeners can raise a steady supply of your favorite greens on a windowsill or beneath grow lights.
LIGHTING
If you get plenty of sunlight every day in the winter, try growing your lettuce on a windowsill. It is actually one of the easiest vegetables to grow inside during those cooler months. In order to be successful, however, there are a few things to keep in mind. Your window must receive a minimum of 5 hours of sunlight, more would be better, and you should fertilize your plants correctly. Also, a balance in watering must be maintained (avoiding both overwatering and underwatering).
If you don't think you have a window that will get enough sunlight, try growing lights.  A grow light is generally an electric light, designed to stimulate plant growth by emitting an electromagnetic spectrum appropriate for photosynthesis. Grow lights make it possible to grow your vegetables indoors by stretching out the number of hours of sunlight your plants get in a day. But selecting the right lights is important for the most effective growing.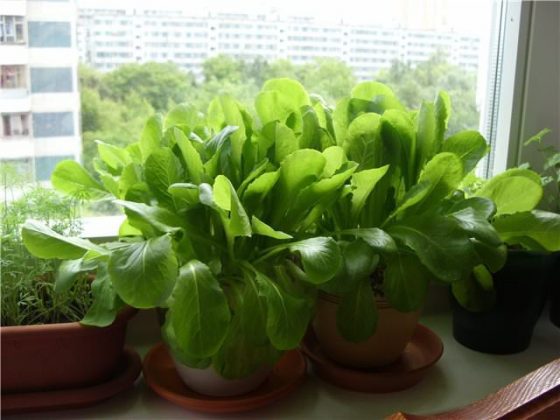 LEDs or light emitting diodes are by far the most efficient of all of three major types of grow lights. They regularly have a light efficiency above 20% (CFL's or Compact Fluorescent Lights, are usually about 1/2 as efficient as LEDs). Recent LED models have even been shown to have over 60% light efficiency.  The light is much more focused and the result is that LED lights can be placed farther from the plants since the lights won't lose focus.  There is also zero or near-zero heat production by LED lights.  The other added benefit is that specific wavelengths can be targeted within the color spectrum, resulting in customized "plant therapy" lighting that can even improve lighting over even sunlight. There are a few downsides to consider too with LEDs. Ey protection often necessary for humans when urban growing because the light can be harmful to human eyes. The other downside is economical.  The prices are often much higher than that of traditional CFLs.
PLACEMENT
Once you've got your lighting situation figured out, you should select a spot to plant your lettuce. Choose a spot away from active heat sources and cold drafts, and inaccessible to mischievous, hungry pets or children. Then choose a container. Flat, fairly shallow containers with good drainage are ideal. Other options include 4″ to 6″ plastic pots or a multi-cell seed-starting system. You can also recycle produce containers or take-out dishes. Wash them well and poke a few holes in the bottom for drainage. For soil, you will want to choose a planting mix that's made for seed starting. Do not use garden soil or "potting soil," which is often too coarse for seed starting.
SEED SELECTION
When it comes to choosing seeds, some varieties are better suited to indoor growing. Look for loose-leaf varieties, such as Baby Oakleaf, Tom Thumb, and Black-Seeded Simpson. Some varieties are known to grow well in winter lighting conditions, such as Arctic King, Winter Marvel, and Winter Density. You can also try growing other salad bowl favorites, such as spinach, arugula (Astro is a variety that does well indoors) and mesclun (my personal favorite!). Avoid head lettuces, which are often difficult to grow indoors.
The next step is to plant your seeds and be patient. Waiting for the delicious lettuce to grow is the hardest part. Once you have seedlings, they should look green and robust.  Leggy, yellowed plants are light-starved. Once your tiny plants have their first set of true leaves, start feeding them with a liquid fertilizer. Monitor the moisture level to make sure your seedlings are moist but not waterlogged.
HARVESTING
In about three to four weeks, indoor lettuce should be around 4″ inches tall and ready to harvest and eat. Because lettuce is perishable, cut only what you need. Starting with the outer leaves first, trim each leaf at the plant's base, about an inch from the soil. Leave the remaining leaves to grow for a few days longer. When the harvest is complete, plant another set of seeds and you'll have a healthy continuous supply of lettuce for your salads all winter long!